Vetoquinol's culture and values are so deeply ingrained that we constantly strive to innovate to find better welfare solutions in partnership with our clients.
Vetoquinol, a shared philosophy
At the root of Vetoquinol is a culture of passion, energy, and commitment. These qualities are shared by all our teams – from scientific to industrial and marketing to administration. No matter where they are in the world, each employee is proud to contribute to Vetoquinol's mission of enhancing the wellbeing of animals and People.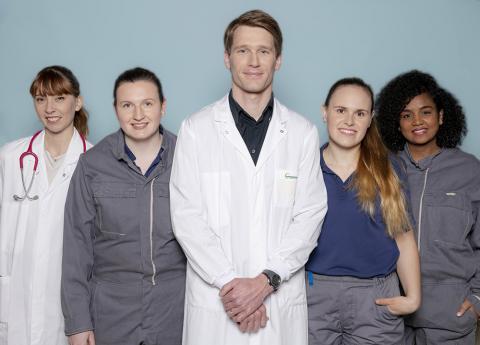 From the start, Vetoquinol's culture and values have guided our actions and decisions, while unifying our teams at an international level.Vetoquinol's culture and values can be summed up in three points:
Trust - We recognise the commitment, reliability, integrity, and skills of every individual.
Dare - We take initiative. We innovate, not fearing failure. We learn from our experiences and adopt an entrepreneurial mindset.
Collaborate - We encourage internal and external partnerships, consulting all relevant stakeholders. We respect other people and benefit from each other's diversity, talent, and culture.
Vetoquinol, always close to our clients
Our relationships are based on honesty and loyalty. All our teams work towards the same goal: to listen, understand and respond to our clients' needs, wherever they are in the world.
For our veterinary partners, we go well beyond providing products. Our services improve the care they provide for animals every day. Vetoquinol's culture and values,  as well as its history and expertise, contribute to making it the true everyday partner of veterinarians. We also help them better serve their clients, breeders and pet owners, through our diagnostic solutions and digital tools. We also support pet owners with our range of OTC (over the counter) products, available without a prescription worldwide.
Protecting Vetoquinol's culture and values for the future
We've chosen to remain an independent company, free to make our own decisions and take a long-term approach to investment and growth. Our family shareholding enables us to be more flexible and responsive.